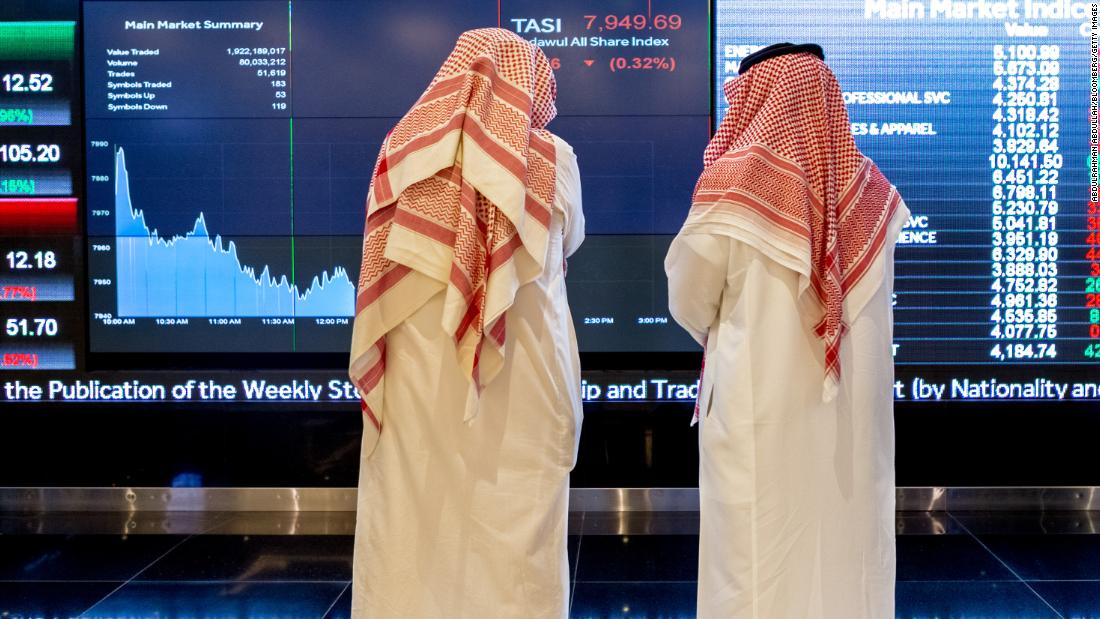 The main stock market index in Riyadh fell as much as 7% on Sunday and billions of dollars were wiped off the value of leading Saudi companies. The index recovered some ground later to close 3.5% down.
Stocks have dropped as much as 9% since Khashoggi disappeared on October 2 after walking into the Saudi consulate in Istanbul. The losses wiped out all the market's
gains
in 2018, although it is still up 8% from a year ago.
For more than two years, the kingdom has been on an ambitious plan to modernize and diversify its economy away from oil. The plan, known as
Vision 2030
and spearheaded by Crown Prince Mohammed bin Salman, aims to increase foreign investment, boost tourism and grow the private sector.
According to a United Nations report earlier this year, direct foreign investment in Saudi Arabia fell to $1.4 billion in 2017, the lowest level in 14 years.
Still, the Saudi economy has been recovering from a recession and investors were encouraged earlier this year when index compiler MSCI granted the country emerging market status. That means that stocks traded in Saudi Arabia can now be included in broader funds, making it easier for investors around the world to put their money into the kingdom's economy.
But the unexplained disappearance of Khashoggi, a former Saudi government adviser turned critic, has already prompted some big-name business partners to cut ties with projects that are central to Saudi's plans of building a modern economy with technology at its core.
"What has reportedly happened in Turkey … if proved true, would clearly change the ability of any of us in the West to do business with the Saudi government," he said in a statement.
"Markets start to price in a fundamental change in the nature of the relationship between the US and Saudi Arabia," said Jaap Meijer, managing director and head of equity research at Arqaam Capital. "We believe it is not warranted given the long term relationship between the two countries, and Saudi being the swing oil producer."
Saudi Arabia has been pumping more oil into global markets to make up for a shortfall created by Trump's decision to reimpose sanctions on Iran.
There's now some doubt about whether US Treasury Secretary Steven Mnuchin will attend the Riyadh conference. At the closing press conference of the International Monetary Fund meeting in Bali, Indonesia, on Saturday he said he still planned on going.
But speaking later that day in the Oval Office, Secretary of State Mike Pompeo would not confirm that Mnuchin would attending the Future Investment Initiative.
"I think we need to continue to evaluate the facts and we'll make that decision," he said.
The BBC reported on Sunday morning that UK Trade Secretary Liam Fox may also pull out.