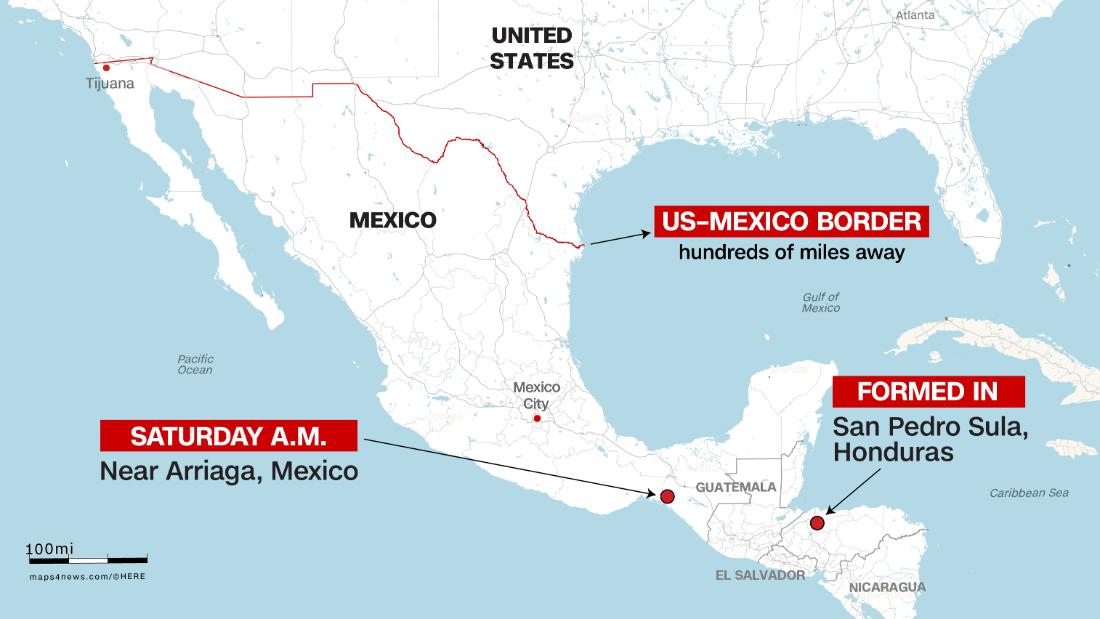 But when Election Day rolls around on November 6, the caravan could still be somewhere in the middle of Mexico, depending on the group's location, how fast it's been traveling and how long it's taken other groups of migrants to cross the country.
Early Saturday morning, the caravan of thousands set out from Arriaga, Mexico, about 170 miles from the Mexico-Guatemala border, where many of the caravan's members skirted authorities a week ago and crossed in rafts.
It's still too soon to know exactly where along the vast US-Mexico border the bulk of this caravan will travel.
But at the moment, they're heading west. After a vote Thursday night, members of the group decided to march toward Mexico's Oaxaca state rather than crossing to the eastern part of the country.
From there, organizers say, they'll travel on to Mexico City, where the group hopes to push for the Mexican government to change immigration laws.
Organizers have told CNN they still don't know exactly which route they'll take to the border. Much depends on the Mexican government and what routes the caravan is allowed to travel, whether its members are detained or held in certain areas and whether the group is provided with buses to speed their journey.
There's a possibility some members will split off and try to make their own way to the US-Mexico border. Others have decided to stay in Mexico — or return to their home countries.
Right now the closest border crossing to this caravan would be between Matamoros, Mexico, and Brownsville, Texas, about 1,000 miles away from the group's current location. But heading that way is considered a more dangerous route.
The group crossed into Mexico a week ago, nearly a week after the caravan formed in San Pedro Sula, Honduras.
Mexican authorities say they've begun processing asylum requests for more than 2,700 Central Americans who arrived with this caravan. And nearly 500 more Hondurans have voluntarily agreed to return to their home country, Mexican officials said.
CNN's Cynde Strand, Leyla Santiago, Bill Weir and Julian Quinones contributed to this report.