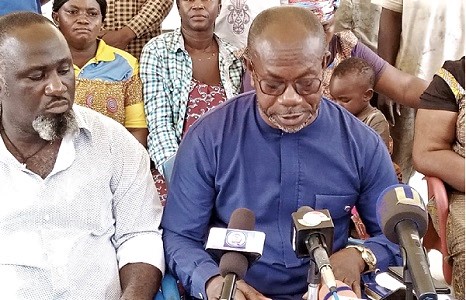 The leaders of Suame Magazine spear parts dealers at Suame has offered the Member of Parliament (MP) for Suame an unreserved apology for attacking him last week.
Some angry members of the group went as far as throwing bags of water at Osei Kyei-Mensah-Bonsu when he tried to engage the vendors to explain what had caused the delay in the repair of roads in Suame, Kumasi.
Condemnation
Speaking at a press conference in Suame on Friday, the Chairman of the Ashanti Regional Branch of the Ghana Union of Traders Association (GUTA), the traders' umbrella body, Anthony Oppong, described the attack as unfortunate because he knew the MP's contribution to the development of the area.
"We hardly expected that some miscreants in our midst would go so far as to embarrass the leaders and MPs of the area.
"We condemn the actions of those cowards who took advantage of the situation to attack MPs in the area," he said. Mr. Oppong commended Mr. Kyei-Mensah-Bonsu for his prompt action in ordering the contractor, Joshoba, to move to the repair site of the Suame Magazine section on the Kumasi-Offinso road.
Currently, part of the road is being repaired with an asphalt surface to facilitate traffic and work"" completion is expected in the first week of August this year.
Repairs to the blockage were delayed because the company was running out of asphalt, according to the contractor, but managed to secure a section from the Ivory Coast to complete the job.
Interchange
Currently, the Majority Leader, who is also Minister for Parliamentary Affairs, is leading Parliament to push through a loan facility from Spain for the Suame Stock Exchange, which will start in September this year.