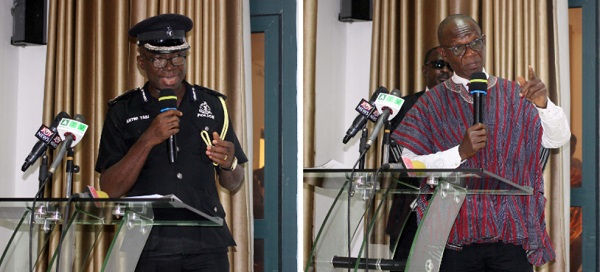 Second in command of the Private Security Organizations (PSO) Directorate of the Ghana Police Service, Deputy Commissioner of Police (DCOP), Antwi Tabi has assured that his unit will continue to work with private companies to provide protection to all citizens and private individuals. companies.
According to him, the police, as part of their efforts to maintain public order as well as search for, arrest and prosecute offenders, will ensure that their monitoring role remains the main focus of the PSO.
At the launch of the International Security Organization (ISO-SEC)-Switzerland, a new security training organization on Wednesday in Accra, DCOP Tabi said PSOs are partners of the police in protecting the country.
"The Police Service, in line with its National Policing Plan and achieving its objectives as set out in its mission and vision statement, maintains a closer working relationship with our stakeholders, including the Private Security Organisation," said DCOP Tabi.
"In this way, we ensure the achievement of all aspects of national activities and the economic, political and social goals of citizens with an emphasis on the security of the entire state." "We also ensure that our supervision, monitoring and evaluation of OZV helps to provide protection to all citizens and people in the country who do business with business organizations such as banks, hospitals, schools and other institutions that protect OZV without infringing their rights under 1992 the Constitution of Ghana".
Launch
Dr Kwesi Biney, Director, Royal Kingdom Security Network Limited, ISO-SEC Accredited Representative in Ghana, said the launch was timely as it came as the Economic Community of West African States (ECOWAS) took measures to combat terrorism. threats in the subregion.
He said ISO-SEC, which conducts courses for professional certified security personnel, is recognized and affiliated to the United Nations with registration number 534475.
Dr Biney also noted that the organization will not duplicate the functions of the police but "will build on the steps already taken by all statutory security agencies and other stakeholders as part of an overall strategy for growth, renaissance and sustainable safety, security and protection". peaceful development".
He added: "The return of violence, robbery, kidnapping and abductions to the countries we put on the post-conflict list is a clarion call to all of us to do more to build peace, safety and security and to consolidate, as well as activate our preventive capabilities to they ensured that conflicts were prevented in the first place to ensure peace, safety and security. "Today's launch of iso-sec will be a testament to ensuring a paradigm shift that has the potential to achieve many outcomes, including security awareness among citizens and an increase in unemployment. By supporting Ghana and sub-regional unity and mutual assistance through professional certified security training, we are also giving meaning to regional integration".
DCOP Tabi also welcomed the ISO-SEC operations, adding that the police service hopes for a fruitful partnership in the future.
Courses
Courses offered by ISO-SEC include Hostage and Hijacking Negotiations, Behavioral Analytics and Predictive Screening, Intelligence and Fraud, Community Policing and IT Essentials for Cyber ​​Security Analysts.